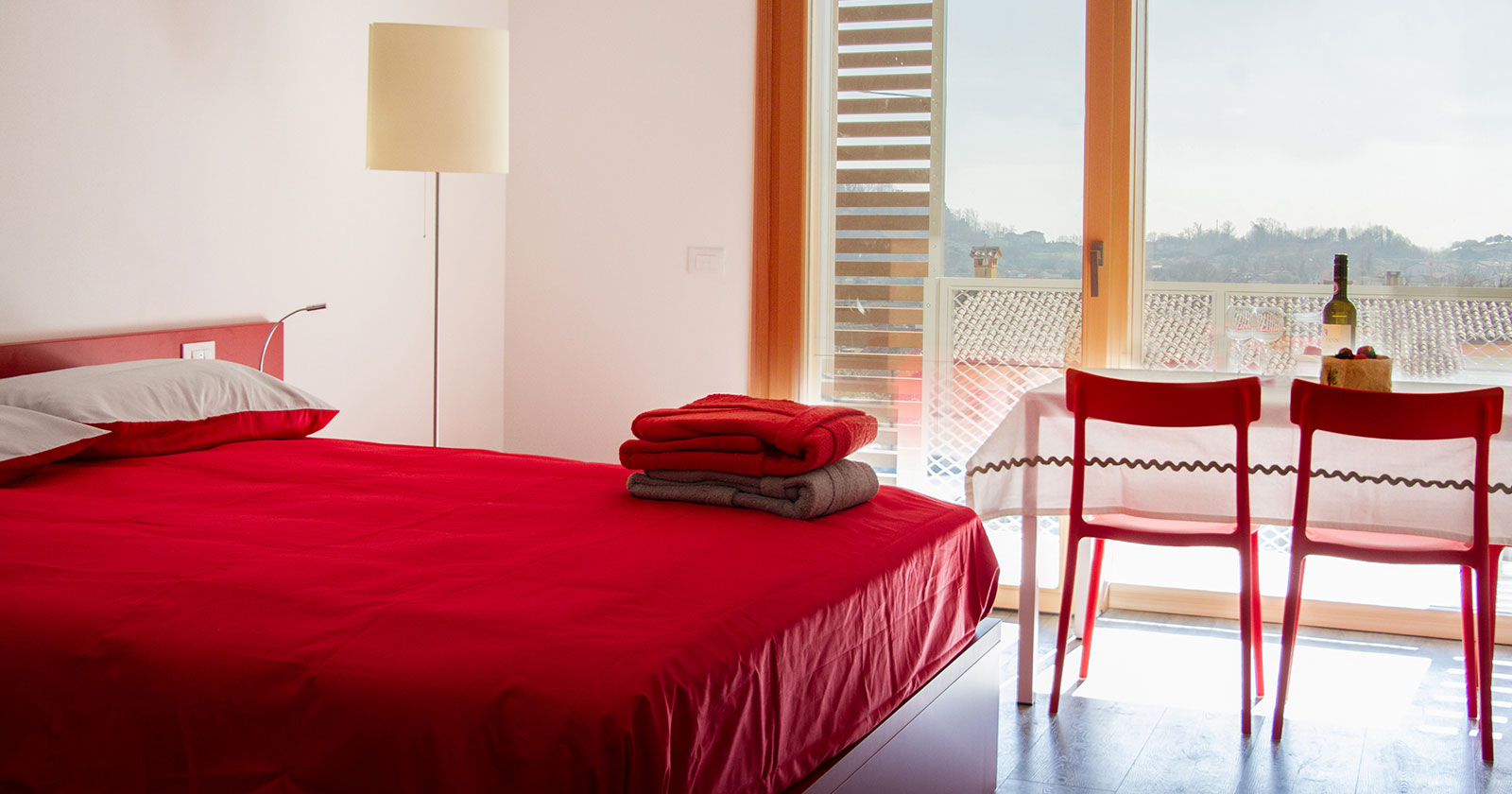 Romantic Room Sport House
Room for couples that would like to spend some days in an intimate and cosy atmosphere.
At the first floor of the building there are two rooms of this kind, we created a romantic corner for the couples that would like to escape far away from the noise and the stress of ordinary daily life: spending some days in the open air, playing sport and indulging themselves.
Modern and simple design: "less is more".
You don't need too many things for a successfull weekend: a spacious double shower, a bed covered by soft pillows, a particular attention paid to lightning, a panoramic terrace, a suspended double armchair.
When you arrive you will find a welcome basket, containing prosecco doc of Valdobbiadene, fresh fruit and chocolate, a kit of essential oils, some massage oil.
Thanks to few simple ingredients, in the romantic room you will have some priceless moments together.
Would you like to enjoy the wellness area alone with your partner? Customers who book the Romantic room can reserve the "private wellness area" for two hours, full relax with your partner and no one other than you two!!
You can have at your private disposal all our wellness area.
To guarantee an unforgettable dinner we can suggest and book for you a good restaurant, suitable for your budget and satisfying your tastes.
You will be surprised by the opportunities that our area offers.
Romantic doesn't mean not technological, in the room there is free internet wireless connection, an induction hob and a 33 inches TV to watch your favourite TV-programmes.
Cuddles, sport, relax, have you still time to do something? We might recommend you a cultural trip, Asolo, Bassano, Marostica, Cittadella, small beautiful cities within less than 30 km from Semonzo, or we might give you some suggestions about exhibitions or events taking places here around.